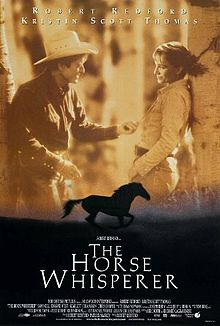 Many actors portray horsemen in movies, but did you know that some of these actors are the real deal? Here are five actors who ride horses off-screen.
Robert Redford
Among some of Redford's top films are "The Electric Horseman" and the 1998 movie, "The Horse Whisperer." But Redford himself is a skilled horseman. Redford worked with Buck Brannaman prior to "The Horse Whisperer" so that the scenes portraying Tom Booker working with horses, particularly the scarred Pilgrim, could be as realistic and accurate as possible. In April of 2013 Redford spoke out against horse slaughter in the United States through a letter urging citizens to ban horse slaughter.
Viggo Mortensen
Viggo Mortensen, who has acted in movies such as "Hidalgo" and the "Lord of the Rings" series, develops strong bonds with his equine co-stars. These bonds are so strong, in fact, that Mortensen often buys his co-stars once the filming has ended: Mortensen purchased TJ, the Paint who served as the main equine actor in "Hidalgo." Mortensen also purchased two horses he worked with while filming "Lord of the Rings" – Eurayus and Kenny. In addition, Mortensen's published The Horse Is Good, a book of his own equine photography.
William Shatner
Famed actor William Shatner is an avid equestrian. He has been breeding and showing Quarter Horses and Saddlebreds for more than 20 years, and he owns Belle Reve Farm in Kentucky. Shatner had the honor of driving a horse-drawn cart to open the 2010 World Equestrian Games.
Robert Duvall
Actor Robert Duvall owns a large farm in Virginia. He's an avid equestrian who is knowledgeable in many equine disciplines. Duvall learned to ride Western on his uncle's Montana ranch when he was young, but now he prefers to ride English. Duvall owns multiple horses.
Kiefer Sutherland
Did you know that Kiefer Sutherland is actually a rodeo champion? During the 1990s he competed in team roping competitions and traveled with the rodeo circuit for a number of years. Though he's given up team roping for acting, Sutherland still owns a large ranch, complete with horse barns, in Montana.
The next time you see them in the saddle on screen, remember that these talented actors aren't faking their riding abilities!
Image Source: en.wikipedia.org/wiki/The_Horse_Whisperer_(film)