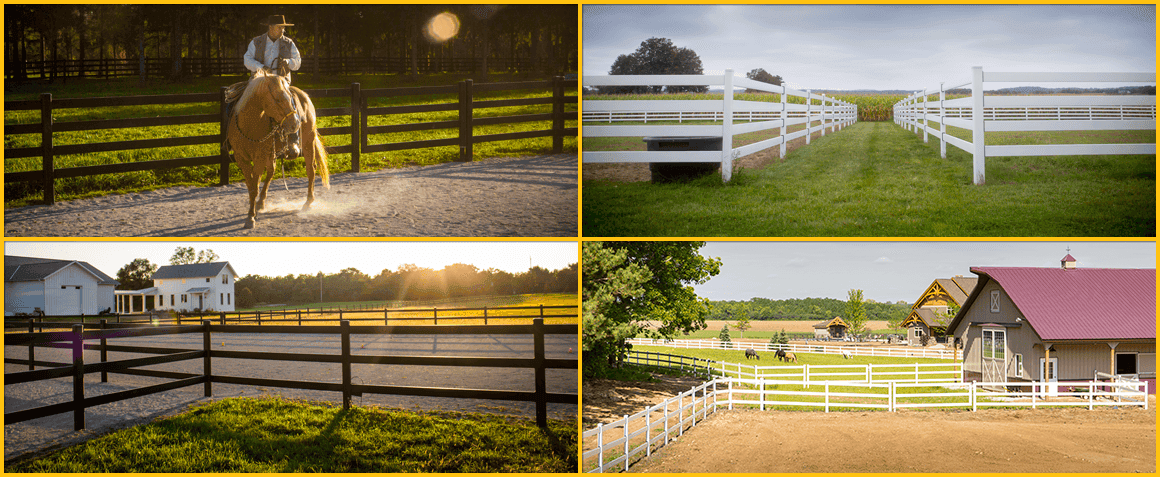 Four different standard styles shown. Black 4-Rail, White 4-Rail, Black 3-Rail, White 3-Rail.
Calculate Estimate with GeoDraw
Strong and Elegant. Our Steel Board Fence is the only post and rail board fence made of steel. It has the aesthetic appeal of traditional wood fencing but is much stronger and more durable. The steel is two-sided zinc galvanized and powder coated with architectural grade powder coating in combination with a zinc phosphate conversion coating for superior paint adhesion and rust protection. Its patent-pending design can include steel z-bar reinforcements in the rails to enhance strength.
Call us today to discuss your horse fencing needs 877-306-4024.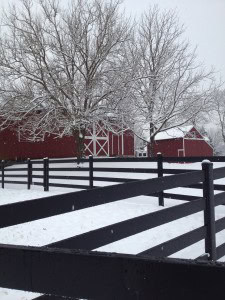 Long Lasting. The lifetime expectancy of the Steel Board Fence is decades and the lifetime maintenance costs are virtually zero. The protective powder coating will not chip, peel or crack and has superior long-term resistance to rusting, fading or chalking. Each piece of horse fencing is thermally independent with allowance for the slight thermal expansion and contraction that occurs in metal. The rails remain straight and the posts perfectly aligned no matter what the temperature. Unlike wood or vinyl, the rails will not warp or sag over time. Nor will they be destroyed from cribbing.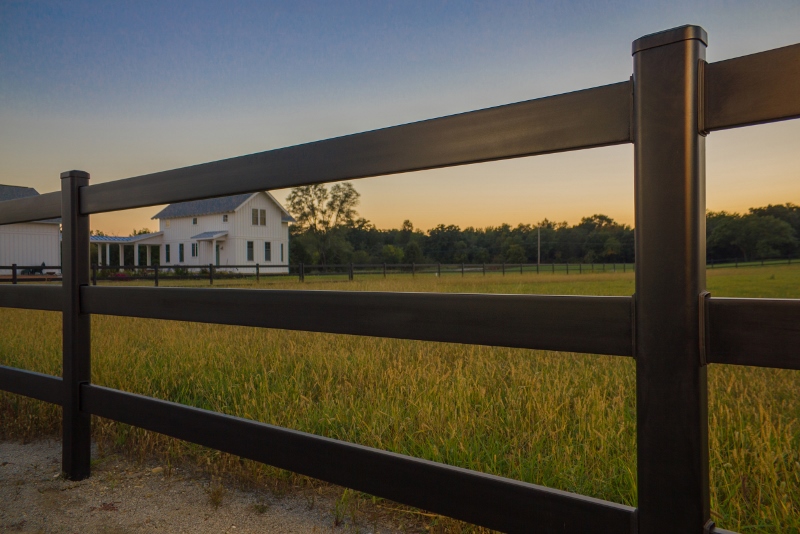 Cleverly Designed for Easy Installation. The Steel Board fence posts are rectangular in shape with rounded corners that are pre-punched with rail openings fitted with unique rubber grommets. The rubber grommets protect the rail's surface and allow them to be articulated within each post to easily fit any layout or terrain. During installation, a lock spacer is dropped inside each post to engage the rails and eliminate the need for nails or screws. Each rail is simply inserted in the post and locked in place for easy installation.
Watch a complete installation overview in the below video. For more visual and written installation instructions, dimensions and layouts, visit our Installation Page. Click here for our 3 Rail layout and click here for 4 rail.

Designed for Horse Safety. The Steel Board Horse Fence is highly visible with rounded smooth edges and no nails, screws or fasteners. The length of the rails allows them to flex for improved horse safety and the steel rod reinforcements enhance strength. When the rails are pushed or impacted, they will cushion the horse and spring back to a perfectly straight line. In the case of a stampeding and panicked horse, its energy is sufficient to cause the rails to bend, buckle, and release from the posts with no breakage or splinters. This prevents serious injury to the horse, unlike with welded steel fence or masonry style systems.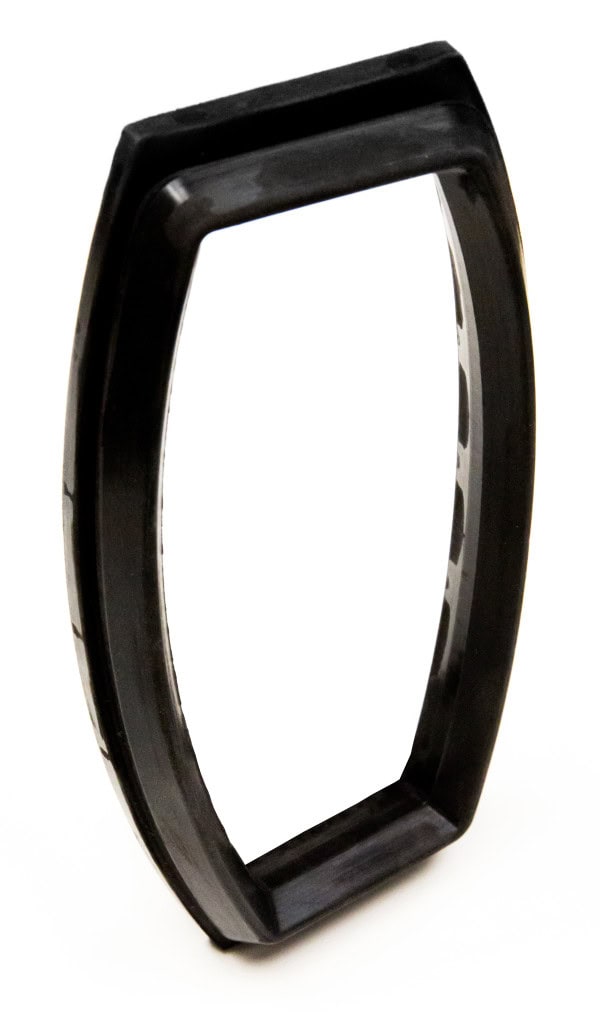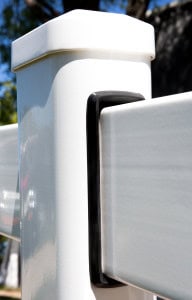 Pictured above: Grommet and Grommet in white Steel Board post.

The post grommets are made of EPDM, the same rubber used for industrial roofing, and will hold its color and form for decades.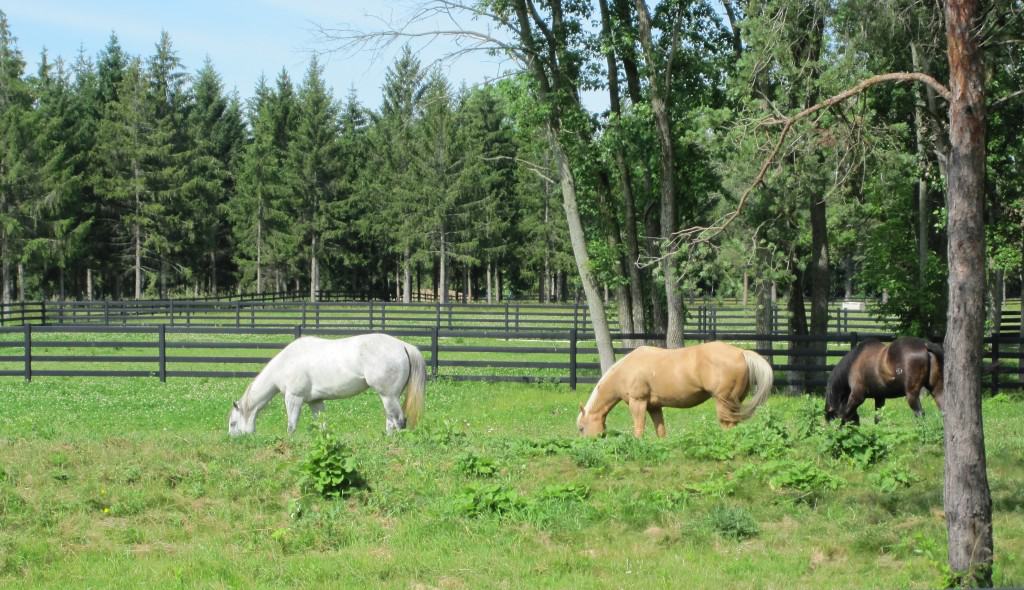 Our Steel Board Horse Fencing will keep its well maintained appearance for decades while enhancing the aesthetics and value of your ranch, farm or home. And at the end of its very long and useful life, it remains a valuable commodity as readily and easily recyclable steel.
We also have specially designed clips for wire-mesh and hot-wire mounting (compatible with Steel Board and many other fence systems); to see how they work, please watch the video below.
For a detailed look at the differences between our colors, please watch the video below.
Send a copy of your layout to us at sales@buckleyfence.com or call us at 877-306-4024
and we will provide a quote!