See Why Our Customers From All Around the World Love Their Buckley Fence
September 2018
We are extremely happy with our black 3-rail fence. When drivers top the adjacent hill and see that quarter mile of fence, straight as string, they are really impressed. Many people have asked where we got it and what it is made of. Jeremy [Garlingotn] did a great job installing your quality product.
Rhonda Hayes
Arkansas, USA
July 18, 2018
Using 4′ and 12′ gates with wood panel fencing.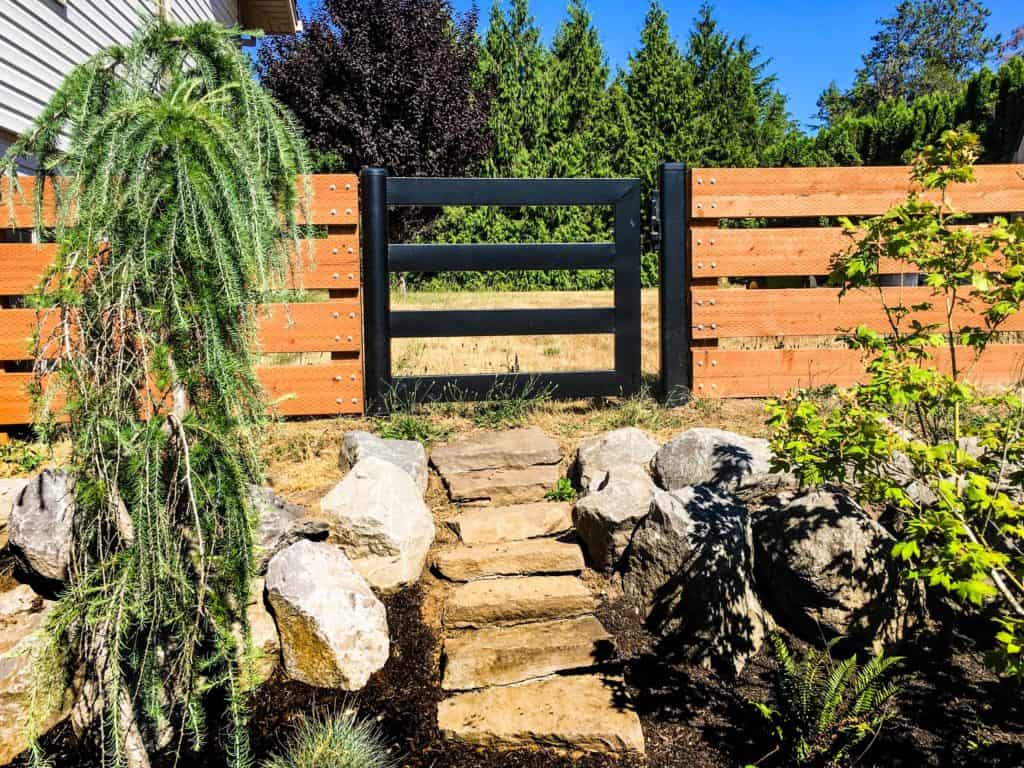 The gates are great and thank you for making a quality product!
Tim Goode
Vancouver, Washington
March 9, 2018
Thank you so much! I have so enjoyed working with you and [installer Tim Jantz]. You have both been such good partners. Tim goes above and beyond to make sure the job gets done right. I'm so excited about the final product. You both have been a joy to work with.
I keep laughing, I drove to a feed store a few towns away to order feed. When I gave my address the clerk looked up excitedly and asked if I lived near a certain intersection. When I told him yes, he said. "With the fence? The really nice black fence? You're that lady?" And I said yes again. He smiled and said, "We all love it."
So it seems like your fence is the talk of not just our town, but nearby ones too ????
Thanks again!
Sarah
Spring Hill, Kansas
November 9, 2017
These are the best latches available! Your customer service is above and beyond all expectations!
Thanks again!
April Simons BS, CVT, VTS (Anesth/Analgesia)
Oregon State University
College of Veterinary Medicine
Anesthesia Department
Laurie Warren and Chuck Mackey
April 11, 2016
Louisburg, Kansas, USA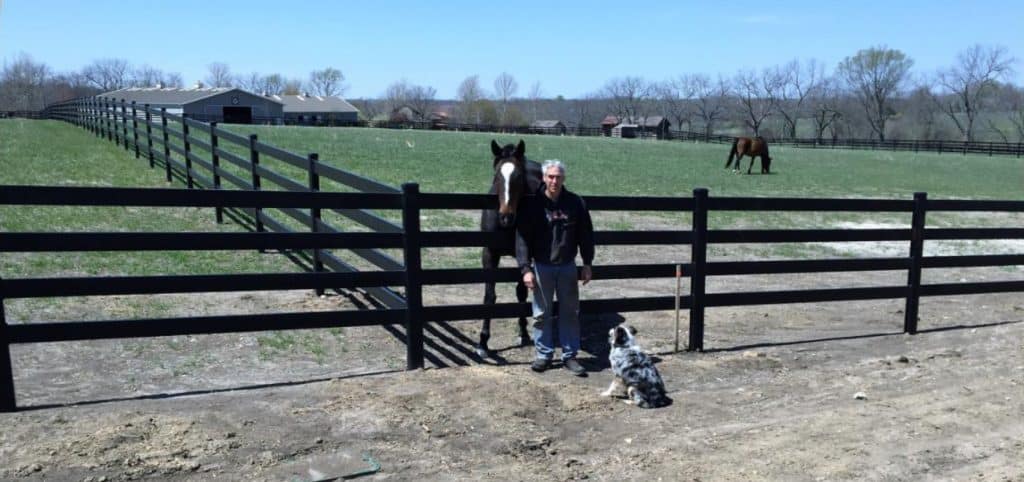 Dear Jim,
I am so glad we replaced our vinyl fence with your product.
The vinyl fence required an electric wire to keep the horses off the fence, but with your fence, no more electric wire. We no longer worry that people or dogs will get a shock when we go out to visit with the horses in the pasture. We also are confident the horses are safe.We love the gates, they
work better than any gate we have ever had
and they look great too.Installation went quicker than we imagined, and Tim Jantz [of Legacy Fence and Construction] did a great job, not to mention he was fun to have around.
We would definitely recommend your fence and Tim Jantz's company for installation.
Tim knows the product very well and provided some great suggestions for a better outcome on the project.
Thank you, and attached is a picture of the fence with a couple of star models showing off how well the project turned out.
Laurie and Chuck
Stephanie Olsan
Spring, Texas, USA
March 30, 2016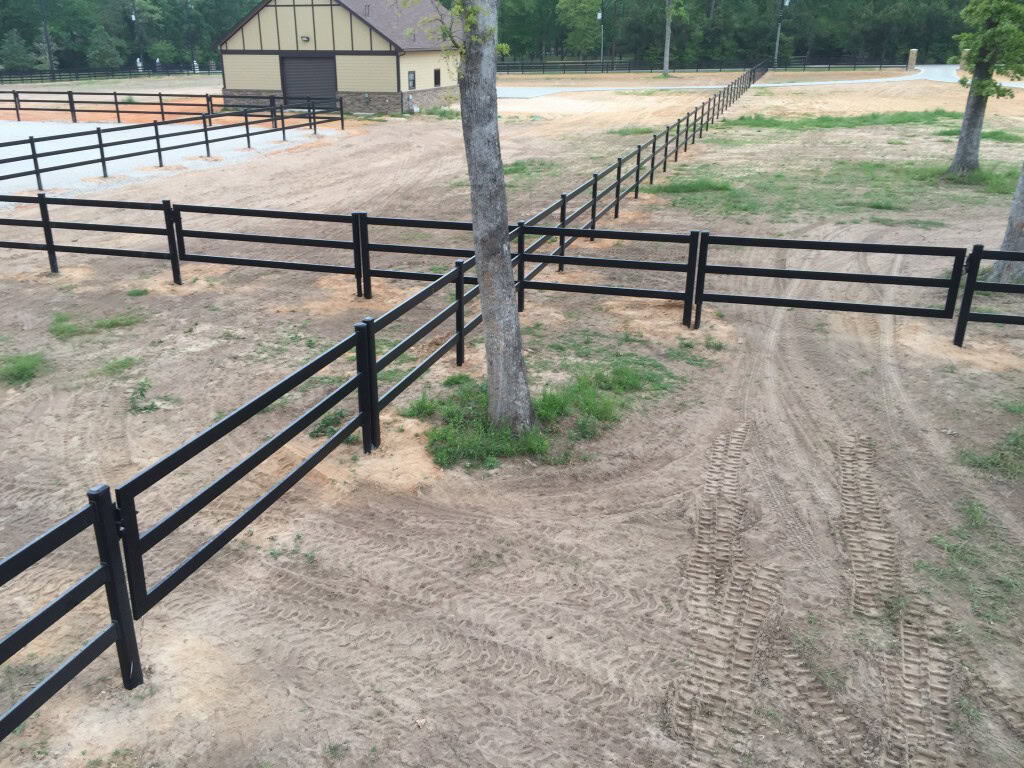 I absolutely love my fence.
I want to thank you again for all the time and effort that you spent with me for the last three years.It has been such a pleasure working with you and I have to say that the Buckley fence was worth the money.It looks absolutely amazing and knowing that it will be maintenance free is even that much better. I have had so many compliments on how beautiful the fence is.I also want to thank Tim and Jeremy [of Legacy Fence and Construction] for installing my fence.I remember Tim meeting me two different times at my place over the course of those three years. Tim took the time to drive out of his way to meet me in person. Tim and Jeremy were worth waiting for. I appreciate them driving all the way from Colorado to Texas just to install my fence. They both did such spectacular job that I even had our County Commissioner say he had
never seen a fence done with such perfection.
I would highly recommend your fence and if you want perfection to have Tim and Jeremy do the install.
What an amazing team y'all are.
Best regards,
Stephanie Olsan
Mickey Carpenter
Decatur, Texas, USA
December 16, 2015The reason I got off my butt and ordered this morning is because I was doing my regular morning feeding, but used the gate without your EZ Latch. My cheeky monkey baby mule got out in the process.That doesn't happen with the EZ Latch!My hubby is pretty proud of the last latch you sent. He makes a point to show it to everybody!!!
Mickey Carpenter
Darian Eldridge
Lilydale, Victoria, Australia
November 30, 2015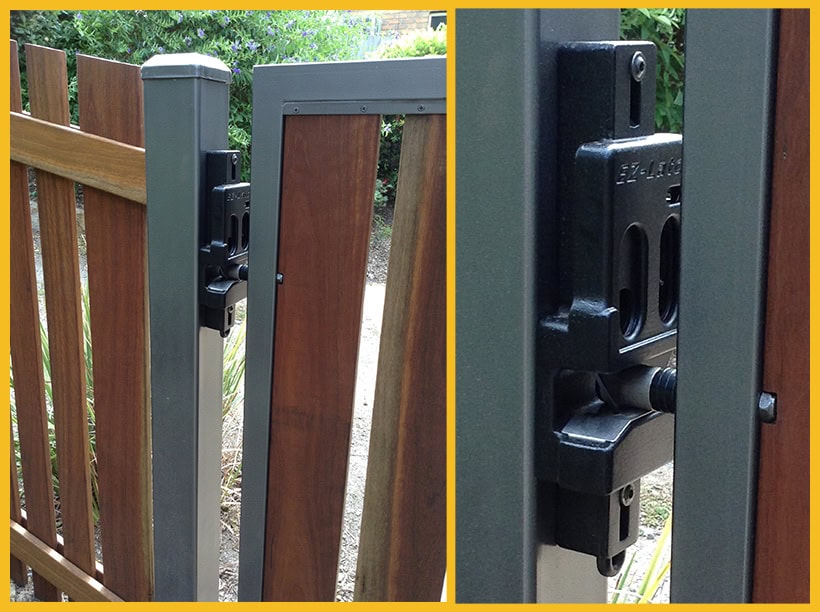 Darian using our texture-black EZ Latch on a 3rd-party gate.
Just wanted to say a huge thank you for making such an easy to use, quality product [EZ Latch]!
It's perfect!
Thanks again,
Darian
Steve Storrs
Divide, Colorado, USA
October 6, 2015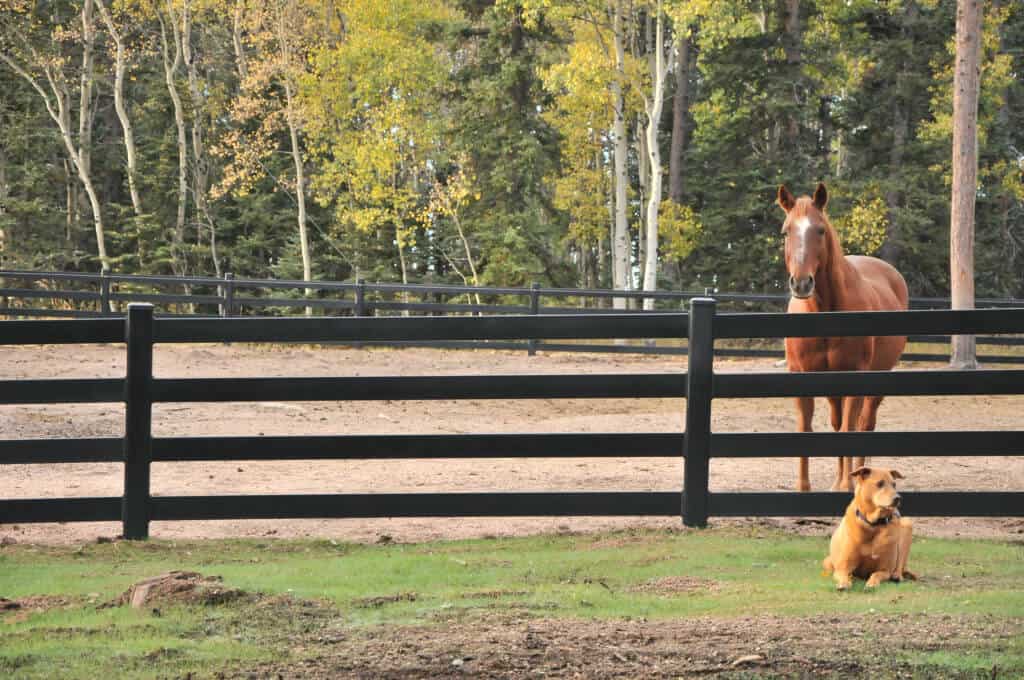 We are really pleased with the outcome, even though not one section was built on level ground.
I used more concrete than expected because of the roots, rocks and stumps that deflected the auger at times, making the holes larger than necessary. The fence is absolutely immovable.
The gates work well, without any sound during the operation, and the leveling device is really ingenious.
I think we have the record high altitude Buckley Fence at 9175′.
The horses will not come near the fence because of the better defined visibility of the hot wire against the black rail.
We had GIANT problems with our old wooden fence and cribbing, but no longer.
I also appreciate your willingness to answer questions during the construction. I did this mostly by myself, with help from my wife at times, and am proud of the way it looks.
03/03/2014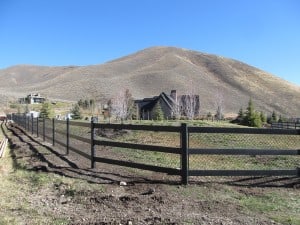 Horses have been central to my daily life since 1980, and I am now in the process of building my fourth and final equestrian project.
Over the years I have learned how destructive these big critters can be when confined in paddocks and pasture. Previously, I have used both wood rail and PVC fencing . I found them both to be problematic. Horses love to chew, so wood rail fence entices that sort of behavior. Consequently rail replacement is an annual event. PVC fencing lacks strength and fractures with pressure or the slightest kick of a rail. Numerous times I had young horses run through the fence and occasionally a neighbor's cow. Our current project is on a much smaller parcel so strength and durability became a primary consideration with the horses contained in smaller enclosures.

I was absolutely elated to discover Buckley Fence's Steel Board product.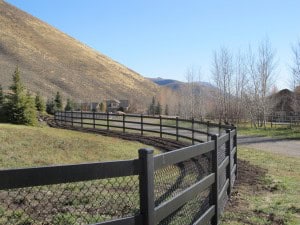 Jim Buckley recommended Tim Jantz, owner of TNT Fence Company, who completed the installation in Oct. of 2013. The topography of the land posed some huge challenges, but Tim was never deterred and
our fence line is perfectly straight and level. Tim is a true professional and an absolute pleasure to work with.
When Tim left, I knew I developed a new friend.
Our experience with both Jim Buckley and Tim Jantz have been wonderful, and our fence is absolutely beautiful.
01/24/2014
I got the fence in and I think it is awesome. If you need a tax write-off and need to donate some fence I could use about 3000 more feet. Of course I am just kidding.
We love the way it looks and will no doubt be putting more in next year.
01/16/2014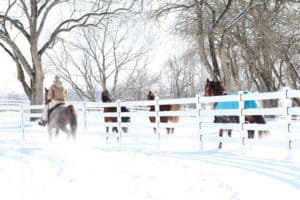 We took on the big job of building a large new equine barn and needed pasture fencing this past fall.
Fencing was a difficult decision because there are so many choices. After research, research, research and looking at every fence we passed with a critical eye for months, we finally decided on metal fencing.
It did not take long to appreciate the quality of Buckley Fence.
Fencing is a costly investment. Our next dilemma was having the fence properly installed. Jim Buckley recommended TNT Fence Company.
[TNT Fence owner] Tim Jantz and his staff are quite simply "the best."
Tim communicated fully to us the what and when of our project. TNT Fence showed up promptly as promised and immediately got to work. We were happily pleased with their attention to detail. Once on the job, Tim suggested a few changes to the layout of our fencing that truly made a dramatic visual difference when looking at the run of fence. These changes actually made his job more difficult but made the finished job lovely to look at.
On a more personal note. In the course of negotiating the purchase of our fence we found out that the boarding facility where our horses were staying was being sold. We were now faced with the pressure of a need-to-move situation. TNT Fence recognized our problem and reorganized their installation schedules to accommodate our little emergency. We are quite grateful for their willingness to go that extra mile.
My horses are now happily in their new pasture. We are enjoying looking at a beautiful, straight and level fence.
We recommend both Buckley Fencing and the installation work of Tim Jantz with TNT Fence Company.
06/05/2013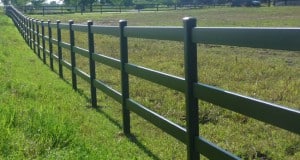 Jim, have any of your clients ever hugged your Buckley Fence?
If not, well, I might be the first! I couldn't help it… it was even better than I imagined!
When I came home today, two sides of one pasture were completed, and it is the most beautiful fence I have ever seen. I am getting calls from neighbors! People are driving by, turning around, and asking about it!
[TNT Fence owner] Tim Jantz is my new rockstar. I can hardly comprehend how much he has gotten done with only 2 helpers. He, well, all three of them possess a very rare work ethic. I'm so glad he is the one installing my beautiful new fencing!
I do understand that my place is a pretty small job for you. I can't thank you enough for working with me and my original crazed measurements and then my budget. The value that this fencing is bringing to my little property is immeasurable… Knock-out beautiful, and the peace of mind that my horses are safe within it.
05/21/2013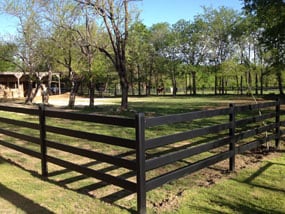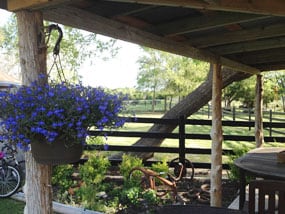 We LOVE our black Steel Board Fence and get continual compliments.
It's an excellent product! We have recommended it to others and even gave the name of your company to another fence installer who serves the North Texas area.
We will be glad to talk with any of your prospects about our experience with Buckley Fence and your great products!
Thank you!
06/29/2012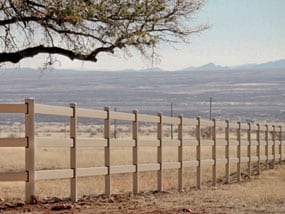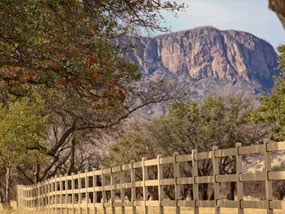 The installation went very well. The posts on 10-foot centers allowed us to move quickly and make good money.
We are so happy with the tan in the textured finish. It looks gorgeous. Buckley Fence followed through on the custom order process to our complete satisfaction.
PVC and other plastic fences do not hold up. The Steel Board Fence is solid and looks great! We will be spreading the word!
10/20/2011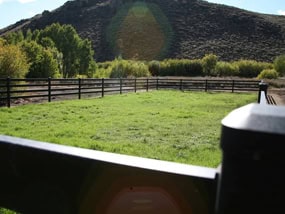 You have the best fence on the planet!
We installed walk out paddocks using the Steel Board in black 4 rail. We extended every post and installed them at a depth of 4 feet because of the deep frost line in our area. The posts aligned perfectly. We love it!
When we put our horse (a 16-3 Hannovarin mare, opinionated as all champions should be) in the paddocks for the first time, she was pretty excited and after a few pirouettes backed hard in to the fence.
My wife was panicked and I was ecstatic . The top two rails buckled, just as Jim Buckley told me they would. The rails did not shatter or splinter.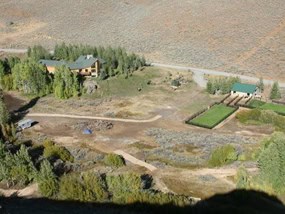 They fell out of the posts and my horse was not injured. The safety of our horse was far more important to us than a bent rail. The rail is simply replaced and we have peace of mind.
If you have any others considering your fence, send them to me. I'll be more than happy to share our experience. Your Steel Board Fence is the best fence ever made!
09/23/2010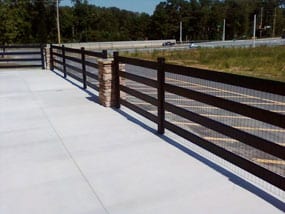 Here is the finished product. Notice the black vinyl wire mesh that we added to meet Forsyth County's building codes.
This fence was so easy to install. I look forward to using Buckley Fence in a traditional horse farm environment.
Click HERE for all photos and complete testimonial.
10/13/2009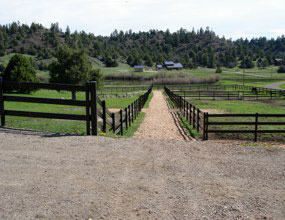 When we bought our ranch in Colorado, we needed to re-fence the property, and selected a black 3 board fencing product.
After 2 years, we have some additional fencing needs and we were not completely satisfied with our first fencing choice (wood board covered with black vinyl).
We chose the Buckley Steel Board fencing product to match our existing look and feel at the ranch. However, all similarity ends there. The Buckley Fence product is far superior in strength, in installation ease and engineering design.
For our first project, we had a steep hill and their fencing did this easily because of the flexible rubber gaskets.
We wish that we had known about this product when we did our original fencing.
We did all of our communication via email and phone and their customer service was superb. They offered to help us many times, but honestly, the instructions were so good that we didn't need to call.
It works – and we did it ourselves! We have another paddock to do next spring and after that, we will replace our fencing with theirs over time.
This is the best made fencing product we have ever experienced. (We have built and fenced 3 ranches to-date). We believe it will last and really be maintenance free.
08/19/2009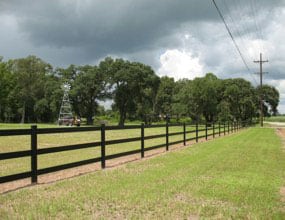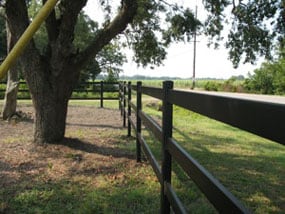 The Steel Board Fence in black is beautiful and fits the landscape so well.We are pleased with the
durability, ease of installation
, and the strength of the fence.We have had
many positive comments
from people who stop to look at the fence.
It has been a pleasure doing business with Buckley Fence.
07/17/2009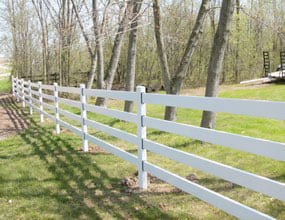 We just love our new Steel Board Fence by Buckley Fence, LLC. It is beautiful and incredibly strong.
The pictures do not do this fence justice. You really have to see it and feel it to appreciate its' quality.
We also did the installation ourselves and are happy to report that it went smoothly and quickly. Thanks for the clear and simple instructions on everything, including the gates and latches. The latch design is clever and truly horse proof. The gates are really strong and beautiful. They match the fence perfectly and the level adjustment feature built right in to the bearings made for perfect alignment.
You can bet we will be telling our friends and fellow horse owners about Buckley Fence!
06/12/2009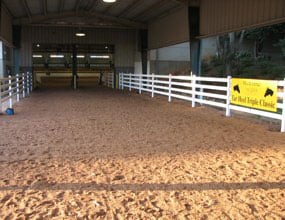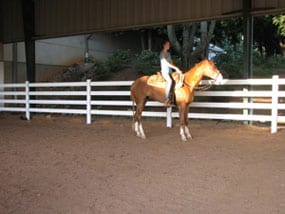 Buckley Fence showcased their premium Steel Board Fence at the North Carolina Horse Complex in Raleigh, NC. The state of NC is in the process of renovating the Governer James B. Hunt Horse complex this summer. As part of the renovation effort, the NC Horse Complex chose the Buckley Fence Steel Board product.
There is nothing on the market that even compares to the durability of the Buckley Fence system.