Please, sit on the fence. Yes, you heard us right. Go ahead, sit on it!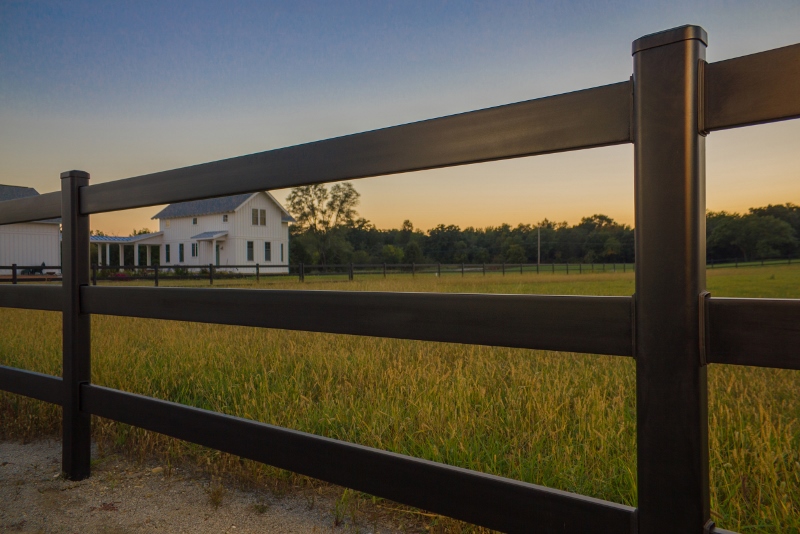 How many times have you been told to not sit on a fence? Traditionally, sitting on fences has been discouraged because horse fencing will usually bend or break, and who wants to repair more fencing than necessary? But things are about to change – if you have Buckley Steel Board Fencing on your property, you can sit and climb on it all you want without worry about breaking or damaging the fence.
Here's why: Buckley Steel Board Fence is much stronger and more durable than your typical wooden horse fencing. Made of steel that is two-sided zinc galvanized and powder coated for the ultimate paint adhesion and rust protection, the fencing material itself brings the ultimate in strength to your farm. It is the only post and rail board fence made of steel, offering you an attractive appearance with incredible durability – virtually no maintenance is required.
Additionally, the fencing's design adds to its strength. The patent-pending design can include z-bar reinforcements within the fence rails – these reinforcements increase the fencing's already impressive strength. Installation is easy and fast, with posts designed so that the rails can be easily inserted – so no nails or screws are needed.
While the fence is strong and solid, you don't have to worry about your horse's safety in the event of an impact with the fence. Buckley's Steel Board Fence has excellent visibility, and the fence rails are designed so that their length lets them flex under minor impact. In the case of a serious impact, such as what would occur if a horse ran into the fence, the rails bend, buckle, and are released from the posts in one piece. There is no breaking or splintering as there often is with wood or PVC fencing, which helps to minimize the risk of your horse being injured.
Standing on a traditional fence results in damage and fence repairs. Wood fencing will buckle, nails will loosen, and panels will fall off. PVC fencing will break and give way. But Buckley Steel Board Fence is strong and durable enough so that you and your children can climb, sit, and stand on the fencing as much as you want.
So while you shouldn't be on the fence about whether to invest in a Buckley Fence for your property, you can go ahead and sit on the fence.
Image Source: https://www.buckleyfence.com
Original Source: https://www.buckleyfence.com/design-engineering/please-sit-fence/