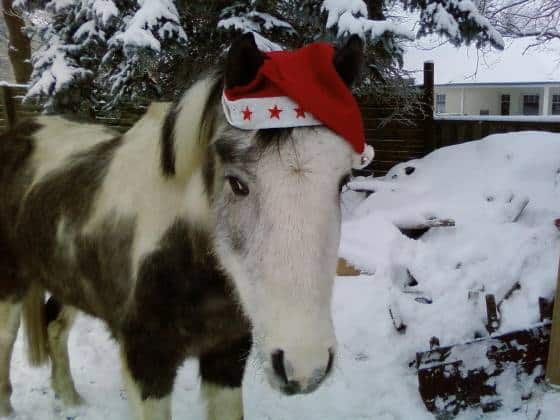 Ways to Spoil Your Horse on Christmas
Merry Christmas! On this day filled with gift-giving, family and great foods, how will you be making it special for your horse? While you may love that new leather halter you've bought him, chances are he's not quite as attached to it. Here are some great ways you can spoil your horse on Christmas (and on any other day of the year).
Give Him a Long Grooming Session
Set an hour aside from your busy schedule and spend some quality time grooming your horse. Go over him from head to toe and use some elbow grease in your currying. Focus on all of your horse's favorite itchy spots. To make grooming extra special, allow your horse to eat from a hay net as you work. You can even combine in some massage strokes for a nice treat.
Extra Turnout Time
During the winter we tend to keep our horses bundled up and inside, but make it a point to give your horse extra time out in his pasture to stretch his legs. (Bonus points if the weather is nice enough to take his blankets off for a while.) While he cavorts around his pasture, you can use the time to walk the fence line and check that all of the fencing is safe and in good repair since the winter has set in.
Sneak Him a Candy Cane
We know, we know – sugar is not great for horses. But we won't tell if, just today, you sneak your peppermint-loving horse a candy cane from the Christmas tree. It's Christmas, after all – and we can add a healthier diet to our New Year's resolutions for 2014.
Make a Feed Mash
Keeping your horse hydrated in the winter is always important, and in making him a feed mash you can keep him hydrated while giving him a special treat. Pour plenty of hot water into your horse's regular feed and let it sit for a few minutes until it creates a loose soup (stirring the feed sometimes helps with this). Then, add in whatever extra treats you would like, such as apples, carrots and even a bit of molasses.
Give Him a Toy
If your horse is spending longer hours than usual in his stall because of the December weather, he might appreciate a stall toy to keep him occupied and entertained. There is a wide variety of toys on the market today, from Jolly Balls to Lik-Its to gradual feed dispensers. Of course, you can always make one from an old milk jug; cut out a few small holes and put a few treats inside, then hang it from a string and let your horse work at knocking the treats out.
There are many ways to spoil your horse on Christmas. Chances are he'll appreciate just about any method that you choose.
Image Source: omettio912.deviantart.com/art/Christmas-Horse-190273382
Original Source: https://www.buckleyfence.com/news-events/gifts-horses-give-us/