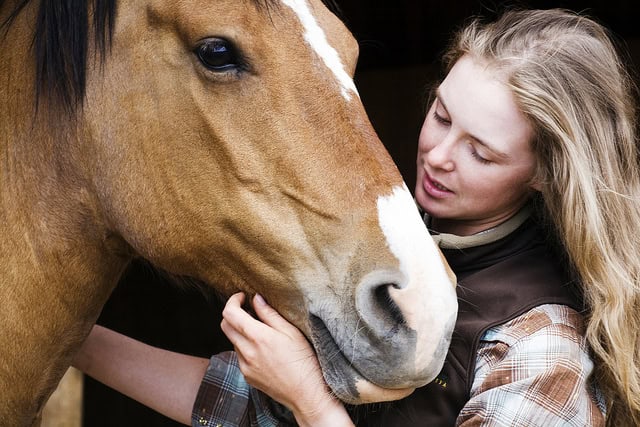 Happy Valentine's Day! We hope this holiday is filled with happiness for you. Maybe you have a Valentine to share this day with. Even if you don't, we have a very special note here for you that we think you'll love.
My Dearest Valentine,
I love you for all of the things that you do.
You pay for my housing and buy me my shoes.
When winter winds come you make sure that I'm warm,
And you watch over me to keep me safe from harm.
On long walks together you tell me your fears,
Knowing they fall upon listening ears.
But I'll never speak them – not a word, not a chance.
You give me your heart. I give you this dance.
Through pastures and fields and mountains we've roamed,
Across open valleys, along trails far from home.
The years that have passed seem like hardly a day
Since the first time we met, and I whisked you away.
This Valentine's Day I hope you know how I feel. 
Though I don't often speak it, our partnership's real.
There's no love so close as the one that we share.
It's founded on passion and friendship and care.
On days that you're tired you still come to talk
And if you need a pick-me-up, we go for a walk.
I know I can heal you by just being there,
As you lie on my shoulder and play with my hair.
So this is for you, my sweet valentine.
I will be your love and you will be mine.
And who's this note from? Well, your first love, of course.   
Signed, most sincerely, your dearest – your horse.
Wishing you the happiest of Valentine's Days.
Image Source: www.flickr.com/photos/echovalleyranch/7006814353
Original Source: https://www.buckleyfence.com/news-events/special-valentines-poem