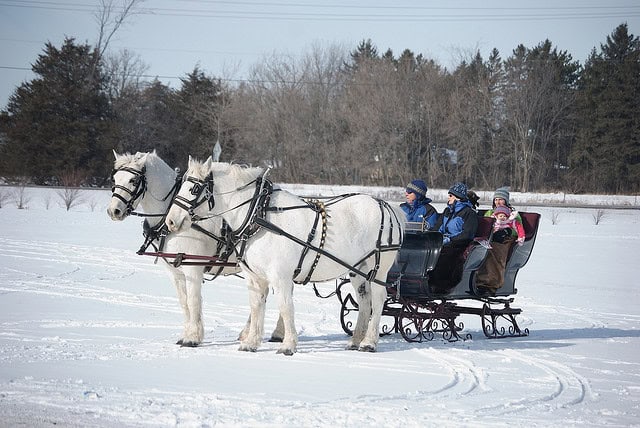 Christmas cards are adorned with horses and sleighs, and "Jingle Bells" emanates from the radio. Christmas is just around the corner, and luckily for us it seems that horses and the Christmas tradition go hand-in-hand. Here are some great ways to combine horses with your holiday celebration.
Christmas Photo Shoots
Consider scheduling a photographer to come and take Christmas-themed portraits of horses and their owners. Designate a day and get some accessories ahead of time, like a decorated garland to drape over each horse's neck and a Santa hat for the owners to wear. Some photographers have their own accessories that they will bring; be sure to mention that you want to do a Christmas-themed shoot. If scheduled early enough, photos from the shoot can make great Christmas cards.
Sleigh Rides
Nothing says Christmas more than a sleigh ride. If you have horses trained to drive and access to a sleigh (plus some snow), then you're all set! If not, don't worry – there are plenty of ways you can still enjoy a sleigh ride. Look into whether local drivers are offering sleigh or carriage rides on farms or at special Christmas celebrations.
Alternatively, find out if any sleigh rallies are offered in your area. Sleigh rallies are fun opportunities to watch some beautiful horses and drivers all decked out to the nines. Be sure to bring your camera and warm gloves along.
Barn Christmas Parties
Schedule a day for a barn Christmas party. Decorate horse's stalls with Christmas trimmings and stockings, and bring treats to stuff each horse's stocking. Consider doing a pot-luck dinner and holding a Yankee swap or other gift exchange.
Barn Bran Mash Night
To get the horses into the Christmas spirit, plan a night when all of the barn's horses will be treated to a hot bran mash. Add in treats like apples, carrots and peppermints to make it extra special.
Bareback Snow Rides
If you're lucky enough to have a white Christmas, then make the most of it and go for a bareback ride with your friends. Plan to meet at the barn on Christmas morning and take your horses out dashing through the snow. For extra fun, bring along a friend with a camera to take pictures of your festive group.
These ideas should get you started in incorporating your horse into the Christmas festivities. What special plans do you have involving your horse this Christmas?
Image Source: www.flickr.com/photos/pmarkham/2232307516
Original Source: https://www.buckleyfence.com/news-events/horses-christmas-connection