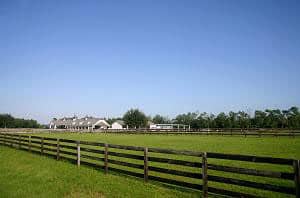 A horse property sale (or equine estate sale) may be the opportunity of a lifetime to purchase your dream horse ranch. On the other hand, without doing the proper preparation and research, you might just be buying someone else's problems. With some advance work, you can be confident when you make an offer at a horse property sale that you will be getting exactly what you want.
Buying a horse ranch?
Get the best fencing to go with it. We have the horse fence that you need – Call us at 414-393-1279.
When you see a horse property sale, you should not even consider moving ahead with trying to buy it until you have taken some things into consideration. Regardless of what a bargain the property may seem to be, you need to figure out ahead of time the answers to some questions. Here are some things you need to ask yourself, before you buy:
How much land do you and your horses need?
Figure on about an acre and a half per horse at a minimum. More is always better, if it is affordable. Also consider that you may have more horses in the future than you do currently.
What kind of fencing is in place?
If the fencing is old, or you notice the rails sagging or some of the posts are not perfectly vertical, you will probably need to replace the fencing in the near future. If that is the case, contact us and we can provide a price for our steel board or Alumashield fences, which are the safest and most secure horse fences available.
What is the condition of the buildings on the property?
This is often left to a professional property inspector – they are trained in what to look for and what questions to ask regarding a horse property sale. In any event, be sure to find out how old the roof is, does the basement ever get wet, are there any underground storage tanks on the property, is there any history of termite damage, and the history of the furnace. These are just a few considerations.
What the condition of the land?
If the property has not been in use for a while, the land may be in rough shape. You don't want your horses grazing in fields that are full of rocks. Even though the listing was titled "Horse Property Sale", it doesn't necessarily mean it is good for horses currently.
Do you see weeds?
You need to become an expert at identifying a particular weed called ragwort. Ragwort is poisonous to horses, and many horses die every year as a result of ingesting ragwort. If you do see this when checking out a horse property sale, it might be best to pass on that one.
Will the driveway safely handle a horse trailer?
Chances are at some point you will be bringing your horse to the local veterinarian, and you will need to be able to pull your trailer on and off your property.
What is your budget?
When figuring what you can afford, be sure to include property taxes and property insurance as well as an estimate on the cost for upgrades and any repairs or remodeling you will want to do. Once you know what you can afford, be firm and don't exceed that number no matter how amazing the horse property sale might be. Constant stress about making the monthly payment is not worth it.
Whether it's now or in the future, your property will need fencing.
Call and ask us what makes our horse fences the best – 414-393-1279.
Checking out a horse property sale is exciting, and who knows – it might be the perfect one for you. Just be sure to do your homework first, and don't get into a deal that you regret later. One thing our customers never regret is getting the absolute best in fencing to protect their horses. We would love to talk with you about your fencing needs. Contact us today!