Wedding season is upon us. Does the charm of a white wedding dress, cowboy boots, and a barn with open fields entrance you? Or are you dreaming of a beach celebration? If you want to get a little country with your wedding, a barn might be the perfect place to hold either it or the reception – or both.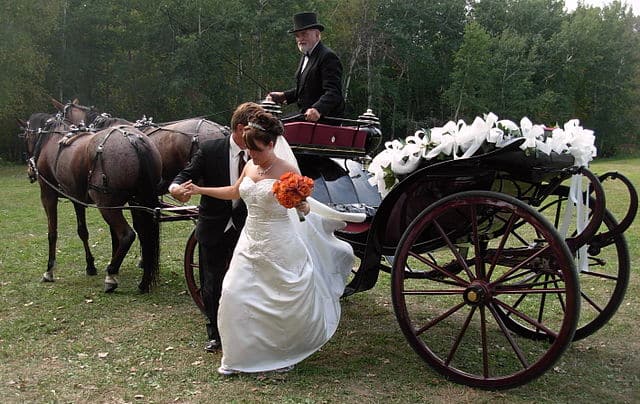 Plan the Area Carefully
If you'll be holding your wedding or reception at a working farm, you'll want to plan the layout very carefully. You will want to get a gazebo and look at some gazebo weight reviews to make sure your gazebo doesn't fly away. Visit your venue ahead of time to decide what layout might be best. If you are still looking for a great venue that will hold a lot of people check out the Tradewinds Hotel. Remember that, while horse people might not mind flies or the mild scent of manure, non-horse people might find them off-putting.
Carefully look at the area where you plan on having guest seating or tables. Consider the view available to guests, but also think about accessibility as well as the safety of the horses. While it might be great fun to have horses hanging their heads over the fencing and visiting with guests, remember that you will have to inform guests of how to safely feed horses and the danger of feeding too many treats.
Make Use of Natural Settings
When planning a country wedding, you'll want to highlight the natural beauty of the setting. Horse fencing, trees, and fields all have a natural beauty to them, as do barns themselves. Consider adding some subtle decorations to draw attention to the features that you want guests to notice. White Christmas lights hung along barn edges or wrapped around hitching posts can "fancy up" a barn. Simple bouquets or small bows or ribbons can decorate a fence or a gate.
Include Touches of the Horse World
There are countless ways that you can incorporate equestrian décor into your wedding table settings. Centerpieces can consist of flowers wrapped with old stirrup leathers. Horseshoes can also be used as centerpieces, especially when combined with candles, ribbon, or flowers. Additionally, horseshoes can make great placeholders – take a new horseshoe and fasten a name card to the shoe with a bit of fancy ribbon. Lay a horseshoe at each guest's place at the table.
Make use of straw bales and whiskey barrels as decorations. Old cowboy boots can hold flowers, delivered from the top-rated flower shops in Pasadena TX, and make great ways to decorate the sides of doorways. Hand-painted wooden signs can add to the charm and help guide guests. And, of course, a game of horseshoes is only appropriate!
Whether or not your horse makes an appearance at the celebration, there are plenty of ways to incorporate an equestrian feel into your wedding day.
Image Source: en.wikipedia.org/wiki/Carriage
Original Source: https://www.buckleyfence.com/blog-posts/planning-a-wedding-a-barn-might-be-the-perfect-setting/