More often than not, the famous groundhog Punxsutawney Phil sees his shadow and predicts six more weeks of winter. But this year the famous groundhog did not see his shadow so the forecast is for warmer days ahead six weeks sooner than usual. Now is the time to "get off the fence" and commit to upgrade to a better fence for your horses.
No doubt the horse fencing you choose is a large investment, similar to the investments in your barn, arena, stalls and footing. It requires careful planning with horse safety, cost and aesthetics of paramount concern. And with fencing, you have the added pressure of doing what makes for good neighbors. So why not impress them? Forget about doing the usual high maintenance wood or vinyl fence. Try steel, or rather invest in steel.
The Steel Board Fence by Buckley Fence is the new standard in horse fencing. Designed in the traditional post and board style, the Steel Board Fence is made of galvanized powder coated steel and is an outstanding fence for horses and your property for several reasons.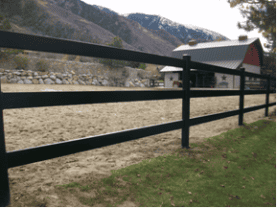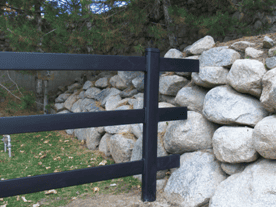 Black Steel Board 3 Rail. Photos courtesy of CFC Fences & Decks, Provo, UT
First, the Steel Board Fence will safely contain your horses and reduce your liabilities. The rails "give" upon impact and are highly visible to the nearsighted horse. The smooth rounded fence components have no sharp edges or protruding hardware that can injure the horse. The horse fence is installed high enough to discourage jumping and is solid enough to discourage testing. The rails will not break or fall out of the posts. The worst that can happen is a rail bending. Fortunately, your horse will avoid injury and remain safely within the fence boundaries.
Black Steel Board 3 Rail. Campbellsport, Wisconsin.
Second, the Steel Board Fence is a sustainable horse fence made of steel protected with a zinc galvanized coating and finished with the added protection of an architectural grade powder coating. The finish will never crack, peel or fade and will resist corrosion in most environments up to 25 years. Unlike wood, the fence will not warp or rot or be eaten by horses or devoured by insects. Unlike vinyl, the rails will not sag, shatter or collect mold. The year round maintenance required with most horse fences is nonexistent with the Steel Board Fence. We can say never paint another fence, replace another broken rail, or wash another moldy fence.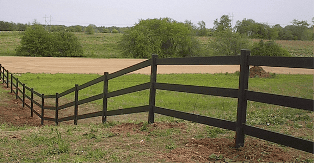 Black Steel Board 3 Rail. Photo courtesy of Thomas Horse Construction, Waukesha, Wisconsin.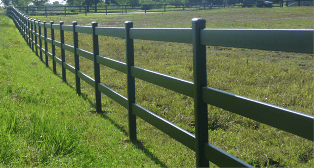 Black Steel Board 3 Rail. Photo courtesy of B&M Fence Co., Kansasville, Wisconsin.
Third, the Steel Board Fence is visually stunning and will remain that way year after year. The 10 foot rails flow with the contour of the land and make a statement about the value you place in protecting your horses and investing in your property. Offered in 3 or 4 rail configurations and in a textured black or white finish, the textured black finish in particular is exquisite. The clever and thorough design allows for easy installation for both the installer and do-it-yourself horse owner, keeping your costs and time to a minimum. Whether you have a large area to fence in or smaller enclosure, the Steel Board Fence will fit any terrain or layout.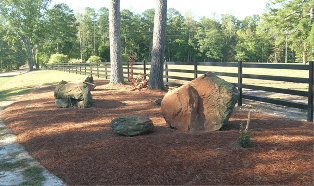 Black Steel Board 4 Rail, Carrollton, Georgia
If you're ready to invest in a horse fence that is everything an outstanding horse fence should be, call us at our toll free number today to discuss your fencing needs. Or visit our website at www.buckleyfence.com or email us at sales@buckleyfence.com