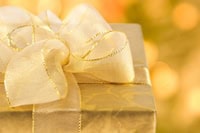 Looking for that last minute unique Christmas gift? How about that new horse fence that your spouse would truly love? Our Steel Board Fence is the only one of its kind made of galvanized powder coated steel that is exceptional visually and superior as an alternative to wood or vinyl. We will be glad to send you a professionally gift wrapped sample of the fence in white or black for free. Our fence samples contain a one foot section of the post showing the rail opening lined with our patented rubber grommet and a one foot section of the rail. We'll include your personal greeting along with warranty and specification information. Imagine a horse fence under the Christmas tree!
Call or email us today to request your free gift wrapped sample – 877-306-4024 or sales@buckleyfence.com! We will guarantee delivery by December 24, 2010 for all requests made no later than December 20, 2010.
If you want to learn more about our Steel Board Fence or Alumashield Fence, visit our website at www.buckleyfence.com. Take a look at some of the pictures included below. If you would like a quote or just want to inquire, we are always happy to take your call or respond to your email message. Our toll free number is 877-306-4024 or email sales@buckleyfence.com.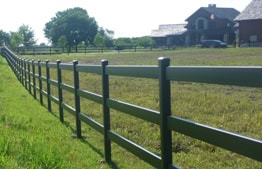 Happy Holidays!
Jim and Patty Buckley