If you're still exploring your fencing options and considering Buckley Fence, we would love to meet you and help you get "off the fence." You will have the chance to see our products up close and meet with Jim and Patty Buckley at two upcoming horse fairs, Equine Affaire in Columbus, Ohio and the Midwest Horse Fair in Madison, Wisconsin, where we will be exhibiting. For everyone who visits our booth at each fair and completes a Request For Quote form for 500 feet of fencing or more, we will include a free 4' Steel Board or Alumashield Gate with their final order.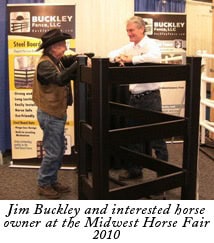 On display in our booth is a fence section and matching 4 foot gate of both the Steel Board and Alumashield Fences. Each gate has the EZ latch gate latch. You can open and close the gates and experience the ease of movement and the two-way latch operation. The fence sections are mounted at the installation height and are large enough to display the features unique to each fence. Once you touch and feel the fence, it's a much easier decision to buy. We will be available to talk with you about the features of each fence and help you make the best decision regarding your fencing needs. With the Buckley Steel Board or Alumashield Fence, you are investing in a fence that will look great and perform well for generations without the usual maintenance hassles.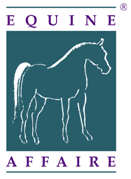 We are exhibiting at Equine Affaire in Columbus, Ohio, April 7-10, 2011, for the first time. The unparalleled education program and the opportunity to be part of one of the largest equine related trade shows made it an easy decision for us to participate as an exhibitor. Our corner booth (#737) is located in the Bricker Building in row 700 on the south end. Visit the Equine Affaire website at www.equineaffaire.com for more information about the educational programs, breed and youth pavilions, competitions and evening entertainment. We look forward to you seeing you there!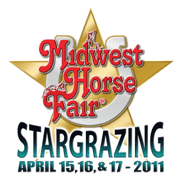 We met so many great horse people last year at the Midwest Horse Fair that we decided to reserve our 2011 booth then. Taking place in Madison, Wisconsin April 15-17, 2011, our corner booth (#2819) is located in the main exhibit hall along the restroom row. Visit our booth after your restroom stop so we have plenty of time to talk fence! Visit www.midwesthorsefair.com for more information on the great speakers, programs and entertainment.
If you're not planning to attend either of these horse fairs, feel free to call us on our toll free number any time to discuss your fencing needs – 877-306-4024. We have samples of the Steel Board Fence that we are glad to send if you're interested. We have also added a photo gallery to our website with many new pictures from our latest installations – https://www.buckleyfence.com/photos/. Check it out when you have a few minutes to browse.
We look forward to seeing or hearing from you! Happy Spring!!