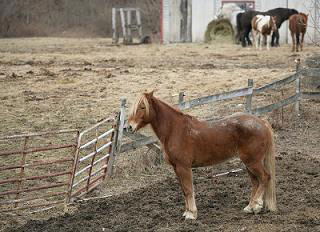 Steel pipe fence has been a popular option for horse fencing for a long time. And it makes sense – what could be stronger than steel, right? Obviously you want your fence to be made of a material that will securely contain your horses without being concerned about their safety. For many horse owners, a round steel pipe fence would seem to do that job.
Considering a steel pipe fence?
Be sure to look at ALL the options.
Call us for details: 877-306-4024.
Before making this major purchase, there are some things to consider. The best decisions are made when you have all of the information in front of you. We try to make sure our customers are aware of all the ramifications in their choice of fencing material. You can weigh all the factors and see which one is right for you.
As a preferred alternative to the traditional round steel pipe fence, we offer our revolutionary Alumashield Fence. This fence is an all-metal fence product – aluminum extrusions that contain cold rolled steel as reinforcement from the inside. This is a fence like no other – "revolutionary" is not an exaggeration.
Let's look at some of the comparison areas and see how the typical round steel pipe fence compares to our Alumashield fence:
Cost
New steel is very expensive. You can save some money by getting the pipe that comes in from the oilfield, but it takes a lot of time to cut it and weld it together to be used as a fence.
Alumashield is less expensive, even when compared to the cheaper oilfield pipe (compared to new pipe, ours is a LOT less expensive). Much better value both initially and in the long run.
Strength
Initially, a regular round steel pipe fence is strong. Over time, it loses strength due to thermal issues (changes in temperature). Since all pieces are welded together, the thermal stresses will cause them to crack eventually.
Alumashield is easily strong enough to stand the impact of a horse. Also, each section is thermally independent and are not subject to cracking at all.
Maintenance
Rails and posts on a round steel pipe fence can rust through and require replacement. Also, they will continue to need repainting, and the paint peels off due to underlying rust.
Alumashield is simple – no maintenance required. The only thing exposed to the weather is the powder coated aluminum alloy that cannot rust or corrode. And no painting is ever required.
Danger to horse
Round steel pipe fence has the thermal contraction issue, the entire fence contracts – this means that the latch can come out of the gate pins. The gate opens and you don't even know it.
With Alumashield, since all sections are thermally independent of each other, there is no chance of the fence contracting and the gate opening. Your horses remain safely secured.
Life span
You should expect to replace a round steel pipe fence after about 30 years. This is after multiple individual sections (rails and posts) have been replaced due to rusting through.
With Alumashield you don't have the rust factor to worry about, the lifespan is substantially longer. You can easily expect it to last 50 years or more.
Do you have questions about buying a round steel pipe fence?
We have your answers – call us today at 877-306-4024.
We would love to talk with you about your options. Each situation is a little different, and we can help you sort out the details and make sure you get the best fence for your farm or ranch. Call us at 877-306-4024, or contact us and someone will get back to you shortly.